Surf House Phuket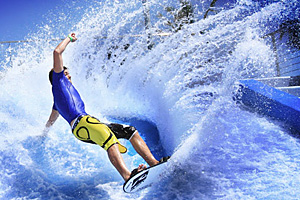 Surf's up, all day… everyday!
When the waves are out of reach, Surf House Phuket is the place for non-stop surf action, trendy music, internationally inspired food and beverages, and the sights and sensations of the Phuket lifestyle.
Not quite a water park, not quite a skate park, the Double FlowRider provides the sublime experience of surfing on a perfectly consistent wave, all day everyday. Surf House Phuket gives people of all ages and surfing levels the opportunity to enjoy the idyllic beach lifestyle and a surreal surfing experience at the same time.
Surf House Phuket is located right at the stunning Kata beach so you can enjoy the beach atmosphere while surfing the perfect wave.
Tel: +66 (0)819797737