Kata Rocks Oceanfront Bar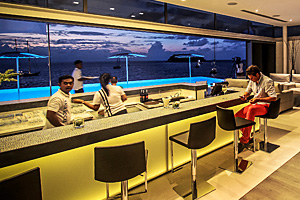 This modern Phuket bar is a huge cut above the thousands of Phuket bars! Guests are [bar] tended by a dedicated team that provide a very personalized service, with a modern stylish attitude; yet retaining the subtle elegance and enjoyment of life, so distinctive in Thailand.
At the bar – homemade alcohol infusions, liquid taste sensations and stunning seasonal cocktails; many drinks with an unpredictable Kata Rocks twist, other beverages – perfectly prepared classics…
Exciting tasters; morsels of food that encourage conversation, query and investigation – What's in it? How do I make this at home? All served from an ostrich egg bar top, with bite-sized bits, small plates and platters. A totally uncomplicated pre-dinner venue…
Sit at the bar, look out to sea; sample a myriad of wines from the Kata Rocks Enomatic wine serving system.
A captivating contraption, which dispenses premium wine directly from the bottle and allows you to taste a variety of wines in one sitting. Another cool Kata Rocks concept, which uses a revolutionary gas preservation system, allowing the flavours and characteristics of the wine to remain intact for up to four weeks.
Freshly made cocktails using newly-picked local fruits and delightful purees, served with premium spirits. Cocktails with character: a Lemongrass Martini, Lemon-marmalade Vodka, Ginger-jam Gin Collins, Dragon Fruit, Vanilla & Spiced Rum, Vodka, Watermelon, Lime & Pineapple Granita or the savoury taste of The Filthy Martini – anchovy stuffed green olives!
Tel: +66(0)76 330 421